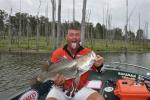 The final event of the 2008 Daiwa BARRA Tour was held at Lake Monduran, November 29-30. Like the previous two Awoonga events, a record field of 46 teams and 92 anglers took part challenging their skills against the almighty and powerful barramundi.
Cy Taylor showed exactly why he is ranked Australia's number one Barra Angler annihilating the opposition and taking out the Halco sponsored event. In one of the toughest bite tournaments we have seen, Cy scored 4/10, 397cm, followed by USA angler Mike North 2/10, 191cm.
Taylor armed himself with a Millerod Salty Barra stick matched to a Shimano Calcutta DC spooled with 20lb Fins braid and 80lb Black Magic leader. His lure of choice was the popular Squidgy Slick Rig, opting for the 110mm in evil minnow colour and adding a stinger treble with wire trace.
Travelling to the back of Bay B, the Taylor boys pre-fished the area and found on their Lowrance sounders a weedy point that became a flat under the water. This was in approximately 1.5 metres of water and dropped off to 11 metres. Here they found the barra cruising in 3 metres and using their slick rigs caught one and left the area.
Targeting laydowns and the stray timber on this flat Cy boated two fish on day one and two on the final day, commenting that he had lost another couple of fish well over a metre.
"I have learnt a lot over the course of the year," he said. "Kerrin and I have built on our experience in AFC fishing with Tim and Motty and fishing these southern dams," Cy concluded.
Switched on and fishing non stop over the session times, the Taylor boys seem to have the knack of working the Squidgy Slick Rigs to the barra's liking, mixing it up with pauses and faster retrieves. An effort that scored them not only Southern Team of the Year (299/300), but Overall Team AOY amassing a virtually flawless 399/400 scorecard.
Enjoying his time on the tour and picking up his first pay cheque in Oz was American Basser Mike North. Fishing with Dave Robinson the pair targeted a large weed bad at the bottom end of the dam.
North used a Nitro rod matched to a Shimano Chronarch with 30lb Jigger braid and 80lb leader. Anchoring upwind, the pair would punch out long casts to the perimeter of the weed and attempt to get the cruising barra to bite.
Day one saw North land his fish on a Squidgy Slick Rig in black gold colour, rigged with a stinger treble and a chartreuse dipped tail.
"I would let the plastic sink to the bottom and slow roll it back to the boat," he explained.
Overcoming the iconic barra bust offs North headed to his spot on day two armed with a green B52 hardbody.
"Mike Connolly handed me this lure and said he had been getting plenty of bites on it," commented North.
Slow rolling it back from the weedbed, it performed and North soon had a fish boated that cemented his second place.
"This is a tough circuit fishing all hours, days and nights. To hook a fish is testing and then to land it becomes a challenge. I had a 50% catch rate," said North.
"I can't thank enough the support of guys here, and extend a welcome to anyone who wishing to come over to the US for a fish," he concluded.
In this Halco sponsored event it seemed only fitting that Trevor Cassidy landed the event's Big Barra of 121cm on a RMG Scorpion 125 XDD in five fin colour. Fishing a weedy point in 4 metres of water, Cassidy threw tight to the weed and gave the lure a fast crank down, several twitches and then a pause allowing a lure to rise was enough to tempt the XOS fish and score him fifth place, a $400 cheque and multitude of prizes.
With 20 separate anglers landing fish, it was reassuring to see several under 50cm specimens caught and released. The $250 stocking donation from ABT to MASA will again help to ensure these great sports fish are around for future generations.
On the completion of the southern leg of the tour, a fantastic trophy was awarded to the Southern AOY and Individual AOY. Cy Taylor won these prestigious awards convincingly and ensured he kept the title for the second year running. On top of this he takes home an Engel 45lt Fridge/Freezer and Engel SHX1000 Generator.
ABT would like to thank all sponsors and competitors for making the Daiwa BARRA Tour so successful and look forward to another bigger and better year in 2009. For further information visit www.australianbarra.com.au or ph 07 3387 0888 during business hours.
| | | | | | | | | | |
| --- | --- | --- | --- | --- | --- | --- | --- | --- | --- |
| Place | Team | Angler | F1 | L1 | F2 | L2 | TF | TL | Payout |
| 1 | Millerods/Shimano | Cy Taylor | 2 | 199 | 2 | 198 | 4 | 397 | $1750, Millerod Stab Stick, Shimano Saragosa Reel, Prize Pack |
| 2 | Worldwide Grumpy Old Men B | Mike North (USA) | 1 | 92 | 1 | 99 | 2 | 191 | $900, G. Loomis CR665, Prize Pack |
| 3 | Team Gin Gin Hotel | Paul McKay | 1 | 106 | 1 | 78 | 2 | 184 | $700, Shimano Fireblood, Prize Pack |
| 4 | Gamakatsu | Simon Barkhuizen | 2 | 128 | | | 2 | 128 | $500, Shimano T Curve, Prize Pack |
| 5 | Rum Pigs | Trevor Cassidy | 1 | 121 | | | 1 | 121 | $400, Berkley Dropshot, Prize Pack, Daiwa and Halco Big Barra |
| 6 | Millerods/Shimano | Kerrin Taylor | | | 1 | 107 | 1 | 107 | $300, Ugly Fish Sunglasses, Prize Pack |
| 7 | Dam Da Barra | Chris Nagiello | | | 1 | 104 | 1 | 104 | $200, Ugly Fish Sunglasses, Prize Pack |
| 8 | Bundy Boys | Peter Bayliss | 1 | 102 | | | 1 | 102 | $200, Ugly Fish Sunglasses, Prize Pack |
| 9 | Egrell Rodz/Foxies Barra Havoc | Terry Alwood | 1 | 101 | | | 1 | 101 | $100, Ugly Fish Sunglasses, Prize Pack |
| 10 | Shitty Tinny | Jason Sizeland | | | 1 | 99 | 1 | 99 | $100, Pflueger Tackle Bag, Prize Pack |
| 11 | Shitty Tinny | Karl Rembacher | 1 | 97 | | | 1 | 97 | Tacklebag, Prize Pack |
| 12 | Activeangler.net | Matt Coleman | | | 1 | 96 | 1 | 96 | Tacklebag, Prize Pack |
| 13 | QFM | Steve Morgan | 1 | 94 | | | 1 | 94 | Tacklebag, Prize Pack |
| 14 | Team Reef Marine | Daniel Grech | 1 | 87 | | | 1 | 87 | Tacklebag, Prize Pack |
| 15 | Bad Heads | Dale Mullins | | | 1 | 86 | 1 | 86 | Tacklebag, Prize Pack |
| 16 | Little Stiffy | Jon Millard | 1 | 79 | | | 1 | 79 | Tacklebag, Prize Pack |
| 17 | Halco | David Hodge | 1 | 73 | | | 1 | 73 | Tacklebag, Prize Pack |
| 18 | Rum Pigs | Stephen Tracey | 1 | 48 | | | 1 | 48 | Tacklebag, Prize Pack |
| 19 | Shimano/Etec | Jason Wilhelm | 1 | 46 | | | 1 | 46 | Tacklebag, Prize Pack |
| 20 | INDT | Greg Birkett | | | 1 | 41 | 1 | 41 | Tacklebag, Prize Pack |
| 21 | Activeangler.net | Aaron Gilmore | | | | | 0 | 0 | |
| 21 | Bad Heads | Peter May | | | | | 0 | 0 | |
| 21 | Bass to Barra | Heath Craven | | | | | 0 | 0 | |
| 21 | Bass to Barra | Phil Morsch | | | | | 0 | 0 | |
| 21 | Boyne Boys | Matthew Worboys | | | | | 0 | 0 | |
| 21 | Boyne Boys | Michael Mole | | | | | 0 | 0 | |
| 21 | Bundy Boys | Jason Medcalf | | | | | 0 | 0 | |
| 21 | Creek 2 Coast II | Glenn Evans | | | | | 0 | 0 | |
| 21 | Creek 2 Coast II | Andrew Schulz | | | | | 0 | 0 | |
| 21 | Dam Da Barra | Matthew Wallace | | | | | 0 | 0 | |
| 21 | East Coast Auto Electrics | Kevin Jones | | | | | 0 | 0 | |
| 21 | East Coast Auto Electrics | Brad Clark | | | | | 0 | 0 | |
| 21 | Egrell Rodz/Foxies Barra Havoc | Steven Bechly | | | | | 0 | 0 | |
| 21 | Evakool-Squidgy | Matt Mott | | | | | 0 | 0 | |
| 21 | Evakool-Squidgy | Kerry Symes | | | | | 0 | 0 | |
| 21 | Far Kens | Ken Best | | | | | 0 | 0 | |
| 21 | Far Kens | Ken Berry | | | | | 0 | 0 | |
| 21 | Fish Catching Machines | Jake Schwerin | | | | | 0 | 0 | |
| 21 | Fish Catching Machines | John Schwerin | | | | | 0 | 0 | |
| 21 | G Loomis-Luckycraft | Danny Anderson | | | | | 0 | 0 | |
| 21 | G Loomis-Luckycraft | Jason Ehrlich | | | | | 0 | 0 | |
| 21 | Gamakatsu | Glyn Barkhuizen | | | | | 0 | 0 | |
| 21 | Gulpin Xraps | Jason Crofts | | | | | 0 | 0 | |
| 21 | Gulpin Xraps | Trevor Crofts | | | | | 0 | 0 | |
| 21 | Halco | Tim Carter | | | | | 0 | 0 | |
| 21 | INDT | Craig Birkett | | | | | 0 | 0 | |
| 21 | Koolabung | Wes Blanch | | | | | 0 | 0 | |
| 21 | Koolabung | Len Schneider | | | | | 0 | 0 | |
| 21 | Leftovers | Jim Schaeffer | | | | | 0 | 0 | |
| 21 | Leftovers | Shane Sanderson | | | | | 0 | 0 | |
| 21 | Little Stiffy | Trent Power | | | | | 0 | 0 | |
| 21 | Logan River Marine B | Andrew Orley | | | | | 0 | 0 | |
| 21 | Logan River Marine B | Alan Hunter | | | | | 0 | 0 | |
| 21 | Mako Sunglasses | Mike Connolly | | | | | 0 | 0 | |
| 21 | Mako Sunglasses | Roderick Walmsley | | | | | 0 | 0 | |
| 21 | McBarra | Les Reibelt | | | | | 0 | 0 | |
| 21 | McBarra | Aaron Mogg | | | | | 0 | 0 | |
| 21 | Middle Age Spread | Jami Kanowski | | | | | 0 | 0 | |
| 21 | Middle Age Spread | Corey Kerr | | | | | 0 | 0 | |
| 21 | QFM | Geoff Rule | | | | | 0 | 0 | |
| 21 | Reidy's Lures | Peter Price | | | | | 0 | 0 | |
| 21 | Reidy's Lures | Arthur Lovern | | | | | 0 | 0 | |
| 21 | River City Marine | Steve Kanowski | | | | | 0 | 0 | |
| 21 | River City Marine | Glen Muhr | | | | | 0 | 0 | |
| 21 | Shimano/Etec | Alan McNamara | | | | | 0 | 0 | |
| 21 | SMP | Michael Schneider | | | | | 0 | 0 | |
| 21 | SMP | Enzo Minuzzo | | | | | 0 | 0 | |
| 21 | Squidgie x 2 | Craig Simmons | | | | | 0 | 0 | |
| 21 | Squidgie x 2 | David Simmons | | | | | 0 | 0 | |
| 21 | Stuuz Rodz | Stuart Adcock | | | | | 0 | 0 | |
| 21 | Stuuz Rodz | Edwena Adcock | | | | | 0 | 0 | |
| 21 | Tackle Warehouse Ladies | Elaine Sanderson | | | | | 0 | 0 | |
| 21 | Tackle Warehouse Ladies | Katie Sanderson | | | | | 0 | 0 | |
| 21 | Team Berkley Hollowbelly Boys | Trevor Burgess | | | | | 0 | 0 | |
| 21 | Team Berkley Hollowbelly Boys | Scott McAuley | | | | | 0 | 0 | |
| 21 | Team Gin Gin Hotel | Rob Wood | | | | | 0 | 0 | |
| 21 | Team Nitro | David Reynolds | | | | | 0 | 0 | |
| 21 | Team Nitro | Adam Byers | | | | | 0 | 0 | |
| 21 | Team Reef Marine | Brad Lovern | | | | | 0 | 0 | |
| 21 | Team Rovex | Gary Leather | | | | | 0 | 0 | |
| 21 | Team Rovex | Tim Mulhall | | | | | 0 | 0 | |
| 21 | Team Tennessee | Jon Brider | | | | | 0 | 0 | |
| 21 | Team Tennessee | Ken Brider | | | | | 0 | 0 | |
| 21 | The Tackle Warehouse | Gordon Macdonald | | | | | 0 | 0 | |
| 21 | The Tackle Warehouse | Ray Wessels | | | | | 0 | 0 | |
| 21 | The Tiny Tinnies | Rob Bartlett | | | | | 0 | 0 | |
| 21 | The Tiny Tinnies | Tim Steenhuis | | | | | 0 | 0 | |
| 21 | U Got Nothing | Pete Leggart | | | | | 0 | 0 | |
| 21 | U Got Nothing | Kevin Finn | | | | | 0 | 0 | |
| 21 | Worldwide Grumpy Old Men | Gary Boyd (USA) | | | | | 0 | 0 | |
| 21 | Worldwide Grumpy Old Men | Peter Morgan | | | | | 0 | 0 | |
| 21 | Worldwide Grumpy Old Men B | Dave Robinson | | | | | 0 | 0 | |
| | | | 16 | 1373 | 10 | 908 | 26 | 2281 | |
| | | | Avg | 85.8125 | Avg | 90.8 | Avg | 87.73 | |
| | | | |
| --- | --- | --- | --- |
| Place | Team | TF | TL |
| 1 | Millerods/Shimano | 5 | 504 |
| 2 | Shitty Tinny | 2 | 196 |
| 3 | Worldwide Grumpy Old Men B | 2 | 191 |
| 4 | Team Gin Gin Hotel | 2 | 184 |
| 5 | Rum Pigs | 2 | 169 |
| 6 | Gamakatsu | 2 | 128 |
| 7 | Dam Da Barra | 1 | 104 |
| 8 | Bundy Boys | 1 | 102 |
| 9 | Egrell Rodz/Foxies Barra Havoc | 1 | 101 |
| 10 | Activeangler.net | 1 | 96 |
| 11 | QFM | 1 | 94 |
| 12 | Team Reef Marine | 1 | 87 |
| 13 | Bad Heads | 1 | 86 |
| 14 | Little Stiffy | 1 | 79 |
| 15 | Halco | 1 | 73 |
| 16 | Shimano/Etec | 1 | 46 |
| 17 | INDT | 1 | 41 |
| 18 | Bass to Barra | | |
| 18 | Boyne Boys | | |
| 18 | Creek 2 Coast II | | |
| 18 | East Coast Auto Electrics | | |
| 18 | Evakool-Squidgy | | |
| 18 | Far Kens | | |
| 18 | Fish Catching Machines | | |
| 18 | G Loomis-Luckycraft | | |
| 18 | Gulpin Xraps | | |
| 18 | Koolabung | | |
| 18 | Leftovers | | |
| 18 | Logan River Marine B | | |
| 18 | Mako Sunglasses | | |
| 18 | McBarra | | |
| 18 | Middle Age Spread | | |
| 18 | Reidy's Lures | | |
| 18 | River City Marine | | |
| 18 | SMP | | |
| 18 | Squidgie x 2 | | |
| 18 | Stuuz Rodz | | |
| 18 | Tackle Warehouse Ladies | | |
| 18 | Team Berkley Hollowbelly Boys | | |
| 18 | Team Nitro | | |
| 18 | Team Rovex | | |
| 18 | Team Tennessee | | |
| 18 | The Tackle Warehouse | | |
| 18 | The Tiny Tinnies | | |
| 18 | U Got Nothing | | |
| 18 | Worldwide Grumpy Old Men | | |