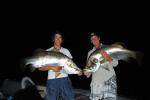 The 2009 Daiwa Lake Awoonga Night Championships produced a session of red hot fishing, in turn rewriting the ABT barramundi record books.
Under a full moon anglers were treated to some of the best tournament fishing conditions on record.
With no less than eleven anglers catching more than 5 meters of fish it was going to take something special to eclipse the field of 32 teams assembled to do battle on Lake Awoonga.
Daniel Grech, a 21 year old apprentice fitter and turner, produced a sensational 5/5 583cm tournament limit to take out the championship, in turn securing his maiden ABT barramundi victory and rewriting the previous 5 fish limit of 514cm set at the same 2006 tournament. In a sign of how successful anglers were at this event, eight anglers overcame the 2006 record set by Jake Schwerin. Furthermore the record for the largest barramundi caught in an ABT tournament, also held by Schwerin, was bettered with a monster 126cm specimen captured.
Fishing upriver Grech, of Team JT Reel Repairs, targeted a weedy point identified in the prefish. Fishing in 10 feet of water, Grech found a submerged weedbed that produced eight fish during the session, with six over the magic meter mark. Using 12cm and 14cm long Rapala X-Rap lures in black and silver colour, Grech secured his bites throughout the session. The Rapala X-Rap lures were retro fitted with Decoy wide Gape trebles and split rings to further secure the bites on offer.
"It was an amazing experience. The stuff you read about in fishing magazines. The session of a lifetime. Sharing a double hookup with my teammate on a pair of 120cm barramundi and landing both fish was something special."
Using his Humminbird Side Imaging sounder, Grech identified barramundi moving into the area. "The fish would come into the area in groups. Often shortly after we would get bites. It was a useful tool to identify the prime bite periods." The key to bites explained Grech was constant motion, "The lures were worked fairly aggressively with few pauses. This action proved to be most effective during the session."
Grech, who has fished both northern rounds of the 2009 Daiwa BARRA Tour, was clearly happy to achieve such an outstanding result. "I don't get to fish the southern dams as much as I like so this is a great result. To be able to go out with a mate and achieve this is something to remember."
Grech's outfit consisted of a 7″ Daiwa Steez machine gun rod teamed with a matching Daiwa Steez baitcaster reel spooled with 20lb Bionic braid and 40lb Black Magic fluorocarbon leader. "The thinner profile braid goes through the weed much easier than heavier gauges. If you tie your knots correctly, I find that 40lb leader does the job nicely", explains Grech of his decision to use lighter gauge braid and leader.
Jason Croft, a 29 year old BCF Manager, produced a sensational 5/5, 582cm to narrowly fall short of taking victory. Fishing approximately 40 meters from Team JT Reel Repairs, Croft targeted a point with a nearby deep water dropoff. With challenging conditions greeting Croft at the start of the session, it took some time to begin his assault on the competition.
"Upon arriving the wind was gusting 20-25 knots. As a result it took about 40 minutes to get a solid anchor hold. With up to 50 feet of rope out at times, the start of the session was challenging weather wise"
With a second place finish at the Teemburra round in 2008, Croft had runs on the board at tournament level. Once Croft had anchored and found his rhythm the bites began to eventuate. In total Croft landed 7 barramundi with 5 over the meter mark. Whilst falling agonisingly short of his maiden victory, Croft broke a long standing BARRA Tour record.
"Mid session I was using a Rapala X-Rap 14 SPM lure. I was slow rolling the lure with periodic twitches when I hooked into a big fish. What unfolded was special." What eventuated was not only a personal best capture for Croft, but also an ABT BARRA record for biggest barramundi caught in a tournament. Eclipsing Jake Schwerin's 2006 125cm record set at the same tournament, Crofts sensational 126cm barramundi showed the potential on offer at this great fishery.
Using 12cm and 14cm Rapala X-Rap lures in spotted minnow and purple gold, retro fitted with size 2 Owner ST66 trebles and Owner Hyperwire rings, and 130mm Squidgy Pro Slick Rigs in drop bear colour painted black on the back, Croft effectively worked his chosen tournament location.
Croft on his lure modifications, "I would paint the back of my slick rigs black to give them more contrast in the water. With the X-Raps I would add a hand made tail, made from a combination of feathers and kinky fibre. This would generate more movement and action in the water.
"The X-Rap lure mimicked the garfish bait in the area. A constant retrieve with gentle twitches mixed up at times with aggressive rod movement proved to be the key. The always moving lure emulated the bait to perfection. As bait moved into our area the bites followed."
Crofts outfit consisted of an AC Custom 6-10kg 6'6″ fast action rod teamed with a Daiwa Zillion HSA reel spooled with 30lb Berkley Tracer braid and 60lb Black Magic Tough Trace leader.
When quizzed on the key to his tournament success Croft deliver this helpful piece of information, "When an angler hooks up, other people on the boat often quickly wind in their lures. We found that continuing to cast until immediately needed on the net often resulted in further bites or a continuation of the bite window."
The Daiwa BARRA Tour now moves to the penultimate event, the 2 day Berkley Lake Awoonga Evening tournament, Nov 30th-Dec 1st. For further information on the Daiwa Barramundi Tour check out www.australianbarra.com.au or contact ABT on (07) 3387 0888 (B/H).


| | | | | | | | | |
| --- | --- | --- | --- | --- | --- | --- | --- | --- |
| Place | Angler | Team | F1 | L1 | TF | TL | Cash | Prizes |
| 1 | Daniel Grech | JT Reel Repairs | 5 | 583 | 5 | 583 | $600+$180 Pro | Daiwa Heartland rod & reel Prize Pack |
| 2 | Jason Crofts | Gulpin Xraps | 5 | 582 | 5 | 582 | 350+Big Barra 126cm | Millerod Hi-Roller rod, Tica Caman & Prize Pack |
| 3 | Jon Millard | JT Reel Repairs | 5 | 582 | 5 | 582 | $250+$180 Pro | Blue Acres Lamiglas rod & Prize Pack |
| 4 | Cy Taylor | Shimano/Millerods | 5 | 555 | 5 | 555 | $200 | Strikeback lure retriever, Hellfish shirt & Prize Pack |
| 5 | Jason Wilhelm | Shimano/Etec | 5 | 546 | 5 | 546 | $150 | Boga Grips, Hellfish shirt & Prize Pack |
| 6 | Jason Ehrlich | Halco | 5 | 545 | 5 | 545 | $100 | TT Prize Pack |
| 7 | Kerry Symes | Evinrude E-TEC HO | 5 | 529 | 5 | 529 | | TT Prize Pack |
| 8 | Willem Reichard | Gulpin Xraps | 5 | 520 | 5 | 520 | | TT Prize Pack |
| 9 | Matt Fraser | Berkley/Nitro R&D | 5 | 508 | 5 | 508 | | Texas Tackle split ring pliers & Prize Pack |
| 10 | Phill Lyons | Gamakatsu/Mako | 5 | 504 | 5 | 504 | | Berkley Tackle bag & Prize Pack |
| 11 | Matthew Mott | Evakool | 5 | 500 | 5 | 500 | | Engel Prize Pack |
| 12 | Jarrod Dalton | Team Engel | 5 | 499 | 5 | 499 | | Engel Prize Pack |
| 13 | Jake Schwerin | Fish Catching Machines | 5 | 496 | 5 | 496 | | |
| 14 | Patrick Morgan | Team Engel | 5 | 490 | 5 | 490 | | |
| 15 | Carl Jocumsen | Millerods/Fisn 'N' Bits | 5 | 489 | 5 | 489 | | |
| 16 | Kerrin Taylor | Shimano/Millerods | 5 | 482 | 5 | 482 | | |
| 17 | Rob Wood | Gin Gin Hotel | 5 | 470 | 5 | 470 | | |
| 18 | Karl Rembacher | Shitty Tinny | 5 | 461 | 5 | 461 | | |
| 19 | Scott McAuley | Reidy's Lures | 5 | 450 | 5 | 450 | | |
| 20 | Dean Silvester | Gamakatsu/Mako | 4 | 426 | 4 | 426 | | |
| 21 | John Schwerin | Fish Catching Machines | 4 | 381 | 4 | 381 | | |
| 22 | Ian Baker | Berkley/Nitro R&D | 4 | 358 | 4 | 358 | | |
| 23 | Ben Durkin | Gin Gin Hotel | 4 | 347 | 4 | 347 | | |
| 24 | Mike Connolly | Evinrude E-TEC HO | 3 | 300 | 3 | 300 | | |
| 25 | Trevor Burgess | Berkley | 3 | 296 | 3 | 296 | | |
| 26 | Ian Miller | Millerods/Fisn 'N' Bits | 3 | 284 | 3 | 284 | | |
| 27 | Alan McNamara | Shimano/Etec | 3 | 281 | 3 | 281 | | |
| 28 | Dave Reynolds | Bass Bounty | 3 | 263 | 3 | 263 | | |
| 29 | Jason Sizeland | Shitty Tinny | 3 | 256 | 3 | 256 | | |
| 30 | Shane Sanderson | Rum Pigs | 2 | 202 | 2 | 202 | | |
| 31 | Robert Brady | Barramundi Adventures | 2 | 189 | 2 | 189 | | |
| 32 | Michael Murray | Barramundi Adventures | 2 | 186 | 2 | 186 | | |
| 33 | Peter Price | Reidy's Lures | 2 | 181 | 2 | 181 | | |
| 34 | Craig Griffiths | Creek 2 Coast Rapala | 2 | 177 | 2 | 177 | | |
| 35 | Mike North | QFM 1 | 2 | 177 | 2 | 177 | | |
| 36 | Justen Bradford | Creek 2 Coast Rapala | 2 | 166 | 2 | 166 | | |
| 37 | Chris Nagiello | Berkley | 2 | 163 | 2 | 163 | | |
| 38 | John Kay | Oliver Beer | 2 | 157 | 2 | 157 | | |
| 39 | Adam Byers | Bass Bounty | 1 | 106 | 1 | 106 | | |
| 40 | Rick Napier | Bundyites | 1 | 106 | 1 | 106 | | |
| 41 | Tim Carter | Halco | 1 | 95 | 1 | 95 | | |
| 42 | Steve Thomhill | Licked | 1 | 94 | 1 | 94 | | |
| 43 | Chris Jowett | Soko Kitchens | 1 | 94 | 1 | 94 | | |
| 44 | Quintin Maclean | Oliver Beer | 1 | 82 | 1 | 82 | | |
| 45 | Trevor Cassidy | Rum Pigs | 1 | 80 | 1 | 80 | | |
| 46 | Duane Dredge | Bundy Barra Bandits | | | 0 | 0 | | |
| 46 | Shane Anderson | Bundy Barra Bandits | | | 0 | 0 | | |
| 46 | Ian Napier | Bundyites | | | 0 | 0 | | |
| 46 | Paul Cooper | Evakool | | | 0 | 0 | | |
| 46 | Sam Haig | Licked | | | 0 | 0 | | |
| 46 | Aaron Mogg | McBarra | | | 0 | 0 | | |
| 46 | Les Reibelt | McBarra | | | 0 | 0 | | |
| 46 | Peter Morgan | QFM 1 | | | 0 | 0 | | |
| 46 | Gary Boyd | QFM 2 | | | 0 | 0 | | |
| 46 | Kurt Hutchby | QFM 2 | | | 0 | 0 | | |
| 46 | Rob Buckle | Rob & Steve | | | 0 | 0 | | |
| 46 | Stephen Town | Rob & Steve | | | 0 | 0 | | |
| 46 | Steve Oster | Soko Kitchens | | | 0 | 0 | | |
| 46 | Elaine Sanderson | Tackle Warehouse Ladies | | | 0 | 0 | | |
| 46 | Katie Sanderson | Tackle Warehouse Ladies | | | 0 | 0 | | |
| 46 | John Brider | Team Tennessee | | | 0 | 0 | | |
| 46 | Ken Brider | Team Tennessee | | | 0 | 0 | | |
| 46 | Jason Sutton | We're On | | | 0 | 0 | | |
| 46 | Matthew Murray | We're On | | | 0 | 0 | | |
| | | | | | 154 | 15238 | 98.94805195 | |
| | | | | |
| --- | --- | --- | --- | --- |
| Place | Team | Angler 1 | Angler 2 | Total |
| 1 | JT Reel Repairs | Daniel Grech | Jon Millard | 1165 |
| 2 | Gulpin Xraps | Willem Reichard | Jason Crofts | 1101 |
| 3 | Shimano/Millerods | Cy Taylor | Kerrin Taylor | 1037 |
| 4 | Team Engel | Jarrod Dalton | Patrick Morgan | 989 |
| 5 | Gamakatsu/Mako | Dean Silvester | Phill Lyons | 930 |
| 6 | Fish Catching Machines | John Schwerin | Jake Schwerin | 877 |
| 7 | Berkley/Nitro R&D | Matt Fraser | Ian Baker | 866 |
| 8 | Evinrude E-TEC HO | Mike Connolly | Kerry Symes | 829 |
| 9 | Shimano/Etec | Jason Wilhelm | Alan McNamara | 827 |
| 10 | Gin Gin Hotel | Rob Wood | Ben Durkin | 817 |
| 11 | Millerods/Fisn 'N' Bits | Carl Jocumsen | Ian Miller | 773 |
| 12 | Shitty Tinny | Karl Rembacher | Jason Sizeland | 717 |
| 13 | Halco | Jason Ehrlich | Tim Carter | 640 |
| 14 | Reidy's Lures | Scott McAuley | Peter Price | 631 |
| 15 | Evakool | Matthew Mott | Paul Cooper | 500 |
| 16 | Berkley | Trevor Burgess | Chris Nagiello | 459 |
| 17 | Barramundi Adventures | Robert Brady | Michael Murray | 375 |
| 18 | Bass Bounty | Dave Reynolds | Adam Byers | 369 |
| 19 | Creek 2 Coast Rapala | Craig Griffiths | Justen Bradford | 343 |
| 20 | Rum Pigs | Trevor Cassidy | Shane Sanderson | 282 |
| 21 | Oliver Beer | Quintin Maclean | John Kay | 239 |
| 22 | QFM 1 | Peter Morgan | Mike North | 177 |
| 23 | Bundyites | Rick Napier | Ian Napier | 106 |
| 24 | Licked | Sam Haig | Steve Thomhill | 94 |
| 25 | Soko Kitchens | Steve Oster | Chris Jowett | 94 |
| 26 | Bundy Barra Bandits | Shane Anderson | Duane Dredge | |
| 26 | McBarra | Les Reibelt | Aaron Mogg | |
| 26 | QFM 2 | Gary Boyd | Kurt Hutchby | |
| 26 | Rob & Steve | Stephen Town | Rob Buckle | |
| 26 | Tackle Warehouse Ladies | Elaine Sanderson | Katie Sanderson | |
| 26 | Team Tennessee | John Brider | Ken Brider | |
| 26 | We're On | Jason Sutton | Matthew Murray | |