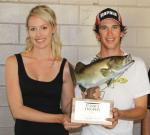 Team Rapala/JT Reel Repairs on fire!
The new pinup couple of barra angling Daniel Grech and Belinda Winton smoked the rest of the field over three sessions, amassing 8/9 barra for 6.86m nearly 2.5m clear of their nearest competitors. Here is how the tournament unfolded;
On Saturday the 17th of April at 6am, 18 keen and optimistic teams lined up for the Inaugural Barra Trophy Tournament on Lake Monduran. Conditions were looking tough for barra fishing. To give you some background, the lake had risen from 33 to 75 percent from February to March. There were quite a few areas with bad water quality and some fish kills evident. In previous weeks, good reports were rare as hens teeth, and to top it off, there were scattered showers and squalls, with cool southerlies assisting to lower water temps.
Essentially, the anglers were up against some of the toughest impoundment barra conditions imaginable. As they set off at dawn, hopes were still high.
As the tournament progressed, many teams proved that Mondy's barra are still there, and willing to bite if you can find them and tempt them. There were two different patterns that emerged; suspending hardbodies, and lipless soft vibes that dominated the top five positions.
Stats
18 Teams
Session 1 – 8 barra. Session 2 – 18 barra. Session 3 – 11 barra
Total – 37 Barra Caught for 22.81m, average size 61.6cm
Top Five Teams Results
5th Tackle Warehouse Ladies – Elaine and Katie Sanderson
The Mother and Daughter team from Biloela struggled in the first session, but found fish in the second session. The first barra they got to the boat was a metre plus fish. The joy was shorted lived as the fish broken the landing net and got away. The ladies were devastated, but went on to catch another four fish for the session. Netting each one holding the frame of the net only! Katie was on fire with an XRap landing the three best, while Elaine also got a little one to the boat. Unfortunately the final session didn't produce for the ladies, but they finished in a very respectable 5th.
4th Rapala Street Team – Craig Griffiths and Daniel Roth
Craig and Dan found fish late in the first session, they hooked three or so that proved very camera shy and declined to be photographed!
Session two they headed straight back to the point opposite white rock, where they fished 50m from Fishin' Buddies. Tied up to a tree, casting in towards drowned shrubs on the point, the guys would work their suspending XRaps hard for a few meters, and then let them sit…..and sit….sometimes 15 to 20 seconds.
They put three fish in the boat in session 2, for 191cm, and one more in session 3 to secure 4th place with 243cm of barra.
3rd Fishing Buddies – Peter and Kyle Hansen
This Father and Son team from Alexander Hills, we're beaming as they came in after session one. They had a cracking morning, hooking 11 fish and landing four. They lost three lures to big fish around trees. Kyle's gun lure was a Bomber while Pete was on the XRaps, all lures rigged to suspend. Fishing further along the point opposite White Rock, tied off to a tree in around 12 feet, casting towards the bank. Kyle worked the shallower 3-5 foot area to the right with his Bomber, and Pete worked slightly deeper and around some drowned shrubs to the left with XRaps. Using 30lb line on Spin gear exclusively, The Hansen's both worked their suspending lures with twitches and again very long pauses, many of the hits came after 10 – 20 seconds of pause. Session 2 , although not quite as red hot as the first session, Fishin' Buddies still caught their limit of three barra for 183cm.
Session 3, proved tougher, Pete and Kyle had a few opportunities late in the sessions, but lost big fish to hooks pulling and Kyle's bomber was destroyed by a barra under the boat pulling the rear hooks out of the lure.
The Fishin' Buddies were stoked with their weekend and getting such results in their second ever barra tournament. Saturday was their best ever Barra Fishing day, in their three years of fishing Monduran.
2nd Team Team Halco – Jason Ehrlich and Tommy Wood
A real mixture of youth and experience, it proved that young Tommy had to show Jason how it was done on Saturday. In fact, 10 year old Tommy from Gin Gin showed up the entire field by catching the first ever barra in a barra trophy tournament at 6.34am Tommy hooked and landed a 64cm barra on a Rapala XRap. Proving this was no fluke he pulled two more fish in the Saturday afternoon session, including a metery that won him the biggest barra Junior catergory and put team Halco into 4th Overnight.
Fishing a point in Jacks Bay, Jason finally cracked the pattern Sunday morning. After losing two good fish around wood early in the session, he finally managed to get two good ones to the boat, including a 105cm model that took out Big Barra Senior for the competition.
Jason and Tommy had their best results fishing a point in Jacks using suspending Rapala XRaps. Their tally of 5 fish for 440cm gave them an 88cm average, well above the average sized fish for the weekend. Their winning technique was again the super long 'pause for effect'!
Mondy Barra Trophy Champions
Team Rapala/JT Reel Repairs – Daniel Grech and Belinda Winton
Where do I start? …….. Daniel Grech 21 year old Cadet Engineer from BMA Coalfields, Moranbah, fished with his 20 year old girlfriend, HR Student Belinda Winton from Townsville. The new pinup couple of barra angling smoked the rest of the field over three sessions, amassing 8/9 barra for 6.86m nearly 2.5m clear of their nearest competitors. Here is how their tournament unfolded;
These guys couldn't get away from work until late Friday arvo, so missed the prefish and briefing, arriving at Gin Gin around 11pm after a 7 hour drive.
Saturday morning they headed off last, to face the 'New' Mondy for the first time. They had a look in 'B' to find dead water and fish, and then decided to try Jacks Bay where they found a nice shallow point with wind blowing onto it, sparsely timbered and close to the deeper water of the creek bed. They identified barra on their Humminbird 997 Side Imaging sounder, which gave them confidence to fish the point. Action came soon after ,in the form of several catfish and then their first barra to Daniel at 9.30, followed by another just half an hour later.
Session two, straight back to their point, they got another three fish, Two to Daniel and one to Belinda, although the fish were deeper in the afternoon session with all fish caught casting parallel to the boat rather than into the bank.
Session 3, Their point continued to produce, albeit smaller barra, but enough to fill their limit, and secure a sensational victory in the inaugural Barra Trophy!
Their winning lures were FLT Transam 95s in AYU with standard hooks. These were cast into the point which also had drowned shubs on the edge. In stark contrast to the other teams suspended hardbody approach, the transom was hopped quite quickly and aggressively , as close to the bottom as possible without fouling on the drowned grass. In the morning sessions the fish all came from the shallows. However in the afternoon session the fish were holding deeper in 10 – 16 feet.
Outfits used were Daiwa Steez and Zillion baitcasters matched up ACM custom rods made in Mackay. Line was 20lb Platypus Superbraid rigged with 40lb Black Magic fluorocarbon leader. Using the relatively light leader wasn't a problem for the duo, as they fished relatively light drag setting, due to the lighter standard hooks on the Transams.
Proving that theory that were you find catfish, you will find barra, the pair also took out the title of Catfish Kings with 15 for the weekend, and Belinda got the biggest Catty and 62cm fork. Well done to Daniel and Belinda on an outstanding effort over the weekend.
Thankyou
Thank you to all the teams that braved the conditions, and came and had a go. It was great to see teams put the effort in and find fish. There was a great sociable atmosphere at the comp, and a sharing of information that saw more teams catch fish as the comp progressed.
A Big thankyou to the sponsors
Thanks for the great support of impoundment barra tournaments!
SHAKESPEARE AWOONGA BARRA TROPHY
The next Barra Trophy event will be held at Awoonga Dam on the 20th -21st August from the Awoonga Caravan Park all details are on the website hearabouts.
Note, in an effort to attract more family teams, entry fees will be $55 per family, also for Seniors who fish with a junior (under 16) in the Pro Team division, your entry fee will be $165 The Barra Trophy Tournaments are great fun events, aimed to get the kids, wives, girlfriends involved in barra fishing, and to meet other barra anglers and share in the fun and learning.

| | | | | | | | | | | |
| --- | --- | --- | --- | --- | --- | --- | --- | --- | --- | --- |
| Place | Team | Angler Names | No. S1 | Length S 1 | No. S2 | Length S 2 | No. S3 | Length S 3 | Total Fish | Total Length |
| 1 | Rapala/JT Reel Repairs | Daniel Grech & Belinda Winton | 2 | 195 | 3 | 298 | 3 | 193 | 8 | 686 |
| 2 | Team Halco | Jason Ehrlich & Tommy Woods | 1 | 64 | 2 | 170 | 2 | 206 | 5 | 440 |
| 3 | Fishin Buddies | Peter Hansen & Kyle Hansen | 3 | 210 | 3 | 183 | | | 6 | 393 |
| 4 | Rapala Street Team | Craig Griffiths & Daniel Roth | | | 3 | 191 | 1 | 52 | 4 | 243 |
| 5 | Tackle Warehouse Ladies | Elaine & Katie Sanderson | | | 3 | 238 | | | 3 | 238 |
| 6 | Team Berkley | Trevor Burgess & Jason Crofts | | | 2 | 142 | 1 | 53 | 3 | 195 |
| 7 | Team Rovex | Gary Leather & Tim Mulhall | | | | | 3 | 155 | 3 | 155 |
| 8 | Gin Gin Hotel | Rob Woods & Ben Durkin | | | | | 1 | 80 | 1 | 80 |
| 9 | Bundyites | Rick & Lee-Anne Napier | | | 1 | 79 | | | 1 | 79 |
| 10 | Nerangatangs | Glen Smith & Michael Weick | 1 | 70 | | | | | 1 | 70 |
| 11 | Young Guns | Dustin Sippel & Boyd Read | 1 | 52 | | | | | 1 | 52 |
| 12 | Rum Pigs | Trevor Cassidy & Stephen Tracey | | | 1 | 46 | | | 1 | 46 |
| 13 | Lapmaps | Lex Irwin & Alex Kallis | | | | | | | 0 | 0 |
| 13 | Barrad Up | Aaron Mogg & Ken Berry | | | | | | | 0 | 0 |
| 13 | Little Dog Earthmoving | Kerry Rasmussen & Klane Tomlins | | | | | | | 0 | 0 |
| 13 | Barra Buffs | Justin Nye & Nat Ash | | | | | | | 0 | 0 |
| 13 | Bet on Black | Jason Sizeland & Cameron Golightly | | | | | | | 0 | 0 |
| 13 | Team Upgrade | Karl Rembacher & Richard Price | | | | | | | 0 | 0 |