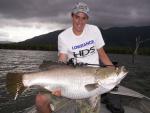 Using the revolutionary Lowrance HDS (High-Definition System) to maximum advantage, Lowrance Pro Team members filled three of the top 10 places in the 2009 ABT Barra Tour, which concluded late last year.
Cy Taylor cemented his position as Australia's No. 1 ranked barra angler by taking out the Individual Angler of the Year (AOY) title for the third consecutive year, followed closely by fellow Lowrance Pro Teamer Jason Wilhelm. Cy and Jason also won Northern Barra AOY and Southern Barra AOY respectively. Making it a family affair, Cy and his brother Kerrin also took out Team AOY!
All three anglers agreed the advanced technology of Lowrance HDS gave them the winning edge in the tour.
Featuring built-in award-winning Broadband Sounder™ technology, HDS delivers peerless echo clarity and the highest underwater definition ever achieved by Lowrance. The system's greater sensitivity, minimal clutter and amazing separation of fish from cover helps anglers find more fish – in both freshwater and saltwater, from shallow water through to extreme sea depths.
The Lowrance HDS series of multi-function displays also combines innovative chartplotting, intuitive operation, and accommodates Ethernet radar and NMEA2000 networking for fuel, engine and boat-operations management solutions.
Available in fully sunlight-viewable HDS5 (12.7cm), HDS7 (16.3cm), HDS8 (21.3cm) and HDS10 (26.4cm) screen sizes, in several configurations, the Lowrance HDS series is the ideal solution for boaters who require an easily networked or standalone electronics package.
Runner-up AOY Jason Wilhelm also used the groundbreaking Lowrance StructureScan™ during the tour. Networked with a Lowrance HDS unit, the LSS-1 sonar-imaging module is the world's first to offer anglers a new dimension in underwater picture-like displays – side-to-side plus straight down, full panoramic viewing.
StructureScan features a combination of SideScan and exclusive new DownScan Imaging technology. SideScan provides full-screen left and right side-viewing with extra-crisp detail of up to 146m (480ft) of underwater coverage that displays structure and fish targets, as well as their imaging-scan shadows. The new DownScan Imaging feature allows anglers, for the first time, to see submerged detail directly beneath their boats, providing a complete underwater picture in a screen format that is easy to interpret.
The on-screen display versatility of Lowrance HDS allows anglers to merge side and down sonar scans in split-screen to view wide-area surveys and highly-defined detail. As a unique tool, anglers can also compare DownScan Imaging with 2D sonar images in split-screen display to better distinguish fish from structure – removing all of the guesswork common to other fish-finding technology.
Further information:
Navico Australia – (02) 9936 1000 or visit: www.lowrance.com.au
Navico is one of the world's leading manufacturers of marine electronics and the parent company to five renowned brands: B&G, Eagle, Lowrance, Northstar and Simrad. Visit www.navico.com to find out about our full range of products, including our revolutionary broadband radar and HDS integrated navigation system.