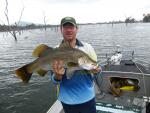 Hot & Cold Barra on Offer at Teemburra
Anglers experience hot and cold angling conditions at Teemburra Dam with competitors catching 28 fish in session one then struggling in a cold, wet and windy conditions in session two to land only 7 fish.
Making hay while the sun shine to claim victory was 39 year old Townsville angler Daryl Pead who caught a full bag in the first session to compiled a 5/10, 330cm limit for the tournament to secure the win over a talented field, including Jon Millard in 2nd and Daniel Grech in 3rd.
Victory for Pead was a result of a red-hot session one with the Teemburra champion getting seven bites and landing five fish on the first afternoon of competition.
"They bit consistently for the first 3 ½ hours of the session then they shut down", explained Pead.
His approach to catch fish during the window of activity involved anchoring the boat a cast length out from a weed and lily lined point on the western side of the lake and working the shallows with slow rolled hard bodies.
"The bites were very tentative so we down sized to a Reidy's Baby B52. Then it was a matter of slow rolling the lure back out from the edge and adding in the occasional pause. The takes were so tentative that many of the fish were just lip hooked on the rear treble. ", explained Pead.
Most bites as expected came on the pause.
Day two proved a lot tougher and with their hot weed-point of day one failing to produce they even looking further afield in search of warmer water and hopefully active fish.
"We found warmer water up the back of a couple of bays, and while we got a hit we couldn't put any fish in the boat", explained Pead.
His 5/5, 330cm limit on day one proved enough and delivered Pead his maiden BARRA Tour event win.
Pead's Tackle
Rod- 5'6" Live Fibre baitcaster
Reel- Rovex baitcaster
Line- 30lb Platil
Leader- 60lb Jinkai Plus flurocarbon
Notes- Down sized to smaller lures and fish slower due to the tentative bite. Saw fish on their sounders on day one but none on day two.
Millard Makes Good
2011 BARRA Tour AOY champion Jon Millard continued his BARRA Tour early season form with another top three placing at the Killalure presented Teemburra event.
Fishing with team mate Daniel Grech, the Rapala/ACM pair fished a gully punctuated by a flooded point to catch their fish.
"We had the boat in about 12 feet of water and cast up on to 8 feet deep point and worked our lures back", explained Millard.
The lure his used was a 6" Berkley Hollow Belly rigged on a 3/8oz, 8/0 jighead and worked with a constant slow rolling retrieve.
"The fish weren't active so you needed to keep the retrieve really slow to get a bite", explained Millard.
The approach worked with the pair getting 17 bites for the session, including 6 landed fish. Four of which belonged to Millard.
"It was definitely a day time bite with the majority of hits coming before dark", explained Millard.
Millard's 3rd place once again confirmed his reputation as one of the most consistent anglers on the BARRA Tour, and it also delivered him the Northern BARRA Tour AOY title. A title he lost last year on a count back, but won this year, ironically also on a count back.
"It's great to win the northern crown, especially after coming so close to winning it last year", explained Millard.
With the southern tour only two months away and Millard on track to defend his overall BARRA Tour AOY Title Millard will be hard to beat in 2012.
Millard's Tackle
Rod- 6'6" ACM Slash Bait Special
Reel- Shimano Calais
Line- 30lb Sufix 832 PE
Leader- 30lb YGK flurocarbon
Note- fished a flooded point that had plenty of cover including weed, lilies and trees, and had wind blowing onto it.
Killalure Big Barra Prize
Craig Griffths claimed the Big Barra Prize at Teemburra with the Rolleston barra angler picking up the winning fish (95cm) on a FLT Transam just after the start of the session one.
Attention now turns to the southern leg of the 2012 JM Gilles BARRA Tour slated for the end of the November and early December. Visit www.australianbarra.com.au for all tour information and entry forms.

| | | | | | | | | | | |
| --- | --- | --- | --- | --- | --- | --- | --- | --- | --- | --- |
| Place | Angler | Team | F1 | L1 | F2 | L2 | TF | TL | Cash | Prizes |
| 1 | Daryl Pead | DDC | 5 | 330 | | | 5 | 330 | $550 | Ugly Fish Sunglasses, Rapala, Killalure, Storm & Squidgy Pack |
| 2 | Jon Millard | Rapala – ACM Rods | 4 | 281 | | | 4 | 281 | $350 | Ugly Fish Sunglasses, Rapala, Killalure, Storm & Squidgy Pack |
| 3 | Daniel Grech | Rapala – ACM Rods | 2 | 157 | 2 | 118 | 4 | 275 | $250 | Ugly Fish Sunglasses, Rapala, Killalure, Storm & Squidgy Pack |
| 4 | Peter Price | Team Lowrance/Reidy's Lures | 2 | 154 | 1 | 87 | 3 | 241 | $200 | Rapala, Killalure, Storm & Squidgy Pack |
| 5 | Glen Smith | Barra Fever | 3 | 212 | | | 3 | 212 | | Rapala, Killalure, Storm & Squidgy Pack |
| 6 | Steven Wright | Team Nitro | 1 | 75 | 2 | 116 | 3 | 191 | | Rapala, Killalure, Storm & Squidgy Pack |
| 7 | Keith Stanford | Barra Fever | 2 | 155 | | | 2 | 155 | | Rapala, Killalure, Storm & Squidgy Pack |
| 8 | Nathan Chapman | DDC | 2 | 147 | | | 2 | 147 | | Rapala, Killalure, Storm & Squidgy Pack |
| 9 | Donovan Power | Team Power | 1 | 80 | 1 | 67 | 2 | 147 | | Rapala, Killalure, Storm & Squidgy Pack |
| 10 | Scott McAuley | Team Lowrance/Reidy's Lures | 2 | 146 | | | 2 | 146 | | Rapala, Killalure, Storm & Squidgy Pack |
| 11 | Craig Griffiths | Area 51 Jig Heads | 1 | 95 | | | 1 | 95 | | Killalure Big Barra (95cm) |
| 12 | Geoff Newby | GB | 1 | 79 | | | 1 | 79 | | |
| 13 | Trent Power | Team Power | | | 1 | 73 | 1 | 73 | | |
| 14 | Jamie Bein | Team Nitro | 1 | 65 | | | 1 | 65 | | |
| 15 | Shane Clarke | Dam Busters | 1 | 57 | | | 1 | 57 | | |
| 16 | Steve Pill | Area 51 Jig Heads | | | | | 0 | 0 | | |
| 16 | Mat McFarlane | Dam Busters | | | | | 0 | 0 | | |
| 16 | Phill Lyons | GB | | | | | 0 | 0 | | |
| 16 | Karim De Ridder | Tin Can | | | | | 0 | 0 | | |
| 16 | Luke Katsaros | Tin Can | | | | | 0 | 0 | | |
| 16 | Michael Weick | Tree Huggers | | | | | 0 | 0 | | |
| 16 | Brendan Barnett | Tree Huggers | | | | | 0 | 0 | | |
| | | | 28 | 2033 | 7 | 461 | 35 | 2494 | | |
| | | | | 72.61 | | 65.86 | | 71.26 | | |
| | | | | | | |
| --- | --- | --- | --- | --- | --- | --- |
| Place | Team | Angler 1 | Angler 2 | S1 | S2 | Total |
| 1 | Rapala – ACM Rods | Daniel Grech | Jon Millard | 438 | 118 | 556 |
| 2 | DDC | Nathan Chapman | Daryl Pead | 477 | | 477 |
| 3 | Team Lowrance/Reidy's Lures | Scott McAuley | Peter Price | 300 | 87 | 387 |
| 4 | Barra Fever | Glen Smith | Keith Stanford | 367 | | 367 |
| 5 | Team Nitro | Steven Wright | Jamie Bein | 140 | 116 | 256 |
| 6 | Team Power | Trent Power | Donovan Power | 80 | 140 | 220 |
| 7 | Area 51 Jig Heads | Craig Griffiths | Steve Pill | 95 | | 95 |
| 8 | GB | Phill Lyons | Geoff Newby | 79 | | 79 |
| 9 | Dam Busters | Mat McFarlane | Shane Clarke | 57 | | 57 |
| 10 | Tree Huggers | Michael Weick | Brendan Barnett | | | 0 |
| 11 | Tin Can | Karim De Ridder | Luke Katsaros | | | 0 |
| | | | | 2033 | 461 | 2494 |